United Front: System Mapping Course
Background Info – System Mapping
This is preparatory work and "background info" for this topic.
Headmaps, a community-based term for system maps, broadly include any attempt to represent factors of a plural system's subjective reality in external (or internal) mediums.
Plural or DID& System mapping is a naturally emergent art that resembles many other types of mapping that have emerged over the ages. Just as there are external world maps (e.g. org charts, cartography, diagrams, bus routes) and there are singular person maps (e.g. mind maps, vision boards, medical charts),  plural systems naturally map things out to either describe something going on to others, or (most importantly) to selves-examine some aspect of their system, record a snapshot of something they find salient at that moment, or communicate with folk internally.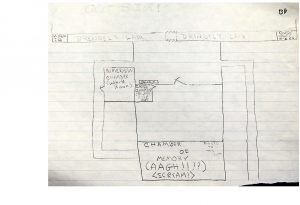 Some plurals are introduced to headmaps or mapping via their therapists. Whether it's a list of headmates or something more artsy and elaborate, therapists caught on to the emergence of maps and now make the recommendation both to their clients and to their colleagues. Our first headmap was likely inspired by being a role-playing gamer — fascinated with the maps in the games we decided to show someone what our inner world looked like (March-April 1986).
Maps can be snapshots of a moment — like a beautiful painting with colors representing headmates, or a group portrait of a subsystem. Or they can be living, breathing, changing documentation of what's emerging in your system — such as electronic maps, or moving parts maps such as using figurines, magnets, whiteboards, cards, playlists, jewelry, etc.  The wonderful thing is that while these things are all being called "maps" that's defining the purpose not the medium; how things are arranged or organized, the symbolism used, or even what is being shown in the map is entirely up to the system in question.
There's an explanation of the benefits of mapping both on Kinhost.org and in the 2019 Plural Positivity World Conference mapping session linked below. This coaching group will be focusing on practical aspects of headmapping, headmaps, communication, and the do-ing-ness of it. Participants will create headmaps during the course, and some of the materials in the course will serve as examples in a visual or contextual medium. But by no means are headlamps limited to visual representations, and participants should not be limited by their artistic, technological, or sensory abilities. A headmap is whatever y'all say it is, not what we tell y'all it is.
This course will contain prep readings or videos to watch/listen to, software to try out, exercises, etc. to do, so please make sure y'all have some time set aside for course work.  Some things will be optional — for example y'all don't have to do all the exercises, and we would never expect someone blind to use visual software that has no accessibility to create a map.  We won't dictate how y'all create your maps — but we'll challenge y'all to actually try to do the exercise in your own system's way — and those who at least try, and bring their sticking points and triumphs (y'all don't have to share the map itself) to the forums, will get more out of the course.  Many technological recommendations are open-source software, free, or low-cost options, or just good-ol' craft supplies like pencil & paper that y'all might have around the house.
There are no requirements to share your maps with the class.  System maps are primarily for your own use. We do not, and will not, ever advocate for folk to show a map to anyone unless they feel truly comfortable and that all entities, processes, fragments, etc. on their map feel comfortable being represented to the person/s they will be shown to.  We consider this to be a very important safety issue, and that showing maps to others without complete consent can be a breach of system trust.
Please give us feedback when something does or does not work for y'all — we'll give reminders for feedback during the course. Your feedback will help us further tune this course to hopefully help dozens of other plurals with their own system map projects.
Here are the resources that students are expected to be somewhat familiar with as background for this course: