United Front: Developing Better Spoons Course
Harvesting cleaner personal energy and improving your& emotional experiences.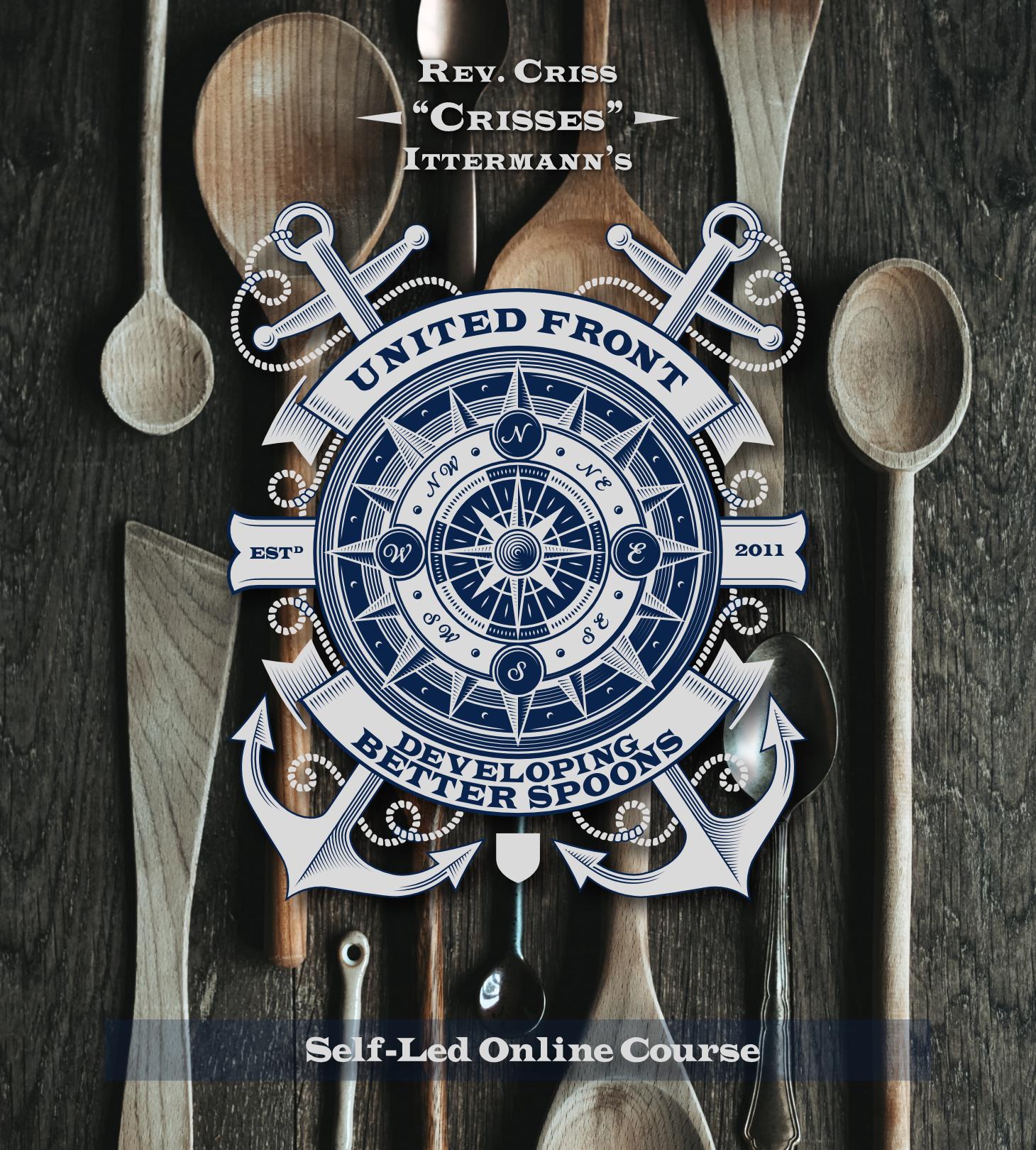 Harvesting cleaner personal energy and improving your& emotional experiences so you can run your system's engines on cleaner and more efficient personal power.
This is now a stand-alone, self-paced course. We are requesting $10 for this course, with a sliding scale of $0-10USD.  Please see https://pluralityresource.org/support-give-back/ for more info on how to support these courses if you are unable to give money for the course or for payment alternatives.  To compensate other than $10USD, use the "offline payment" feature, let us know how you would like to support the course, and we'll manually approve you into the course.
Prior experience, society's expectations, and capitalist culture encourage us to run our lives in panic mode, harnessing enough (but not too much!) fear and anxiety spoons to be "productive."
Therapists then attempt to encourage mindfulness and grounding to lower anxiety — without a full explanation of why, and without replacing panic/fear spoons with anything else to help people to be motivated and accompish the things we want or need to do.
There's a missing element in the equation, the other, better, "spoon" metabolism that we can work towards using more often and unlock for a less harrowing — and much more pleasant — daily energy experience.
Join this course to learn more about how to:
Understand panic cycles and what they're doing to our body & mind
End panic cycles when they are unwarranted through the use of various presence techniques (don't worry, grounding isn't the only presence technique)
Leave peace/presence mode by way of passion/heart rather than returning to panic mode when you want to get things done
Recognize when you're back in panic mode again (it happens! and that's OK) and practice how to return to passion mode
This course is a mix of recorded presentations and written materials/suggested assignments. To get the most from the course it's suggested to take advantage of all the provided materials unless it is marked as optional.
For more background on this course please see the Better Spoons presentation from the Plural Positivity World Conference, 2020. For an overview of how our offerings weave into each other, and flowcharts to help pick where y'all would like to go next, see the United Front System Self-Help Flowchart/Decision Maker.
Important: you will learn theories and techniques in the course, but note that mindfulness, and learning to monitor and change your metabolism are ongoing practices. Doing the exercises consistently, and making a practice of using the techniques discussed will help you learn and improve these skills, and we cannot guarantee that everyone will be able to get the hang of using passion mode in just a few weeks.  While you will surely get benefits from it sooner, think months, maybe a year, to get the full benefits of this course if you apply yourselves to it.
Singular?  This topic is entirely appropriate for singular folk, the materials in the course are tuned to address plural systems. Please let us know if you need any recommendations to adapt the exercises or tactics/descriptions mentioned to be applicable for singular folk. Assuredly, however, you, also, can use better spoons.
Other Reviews
I didn't take this course in live coaching group but it was still very interesting! It's going to take some time to put it all together, I'll come back to read regularly but thank you for everything, it's really useful to be able to understand and adapt things that seem so natural that we don't notice them while it can be a key to feel better 🙂 — Anonymous Student
Course Content
Total learning:

39 lessons
Coaching Application

By January 1, 2021. All attendees for the coaching pilot group are screened by application and interview. Please answer the following questions and follow the instructions in this module. The application assignment includes scheduling an interview appointment with the Crisses.

Understanding Panic Cycles

January 5th, 2021 group coaching session prep. What are panic cycles, how to recognize them, when we need them, and what they're doing to our body & mind.

Presence & How to Achieve it

Live on January 12, 2021 group coaching session prep. Putting an end to panic cycles gracefully when they are unwarranted; presence techniques, alternatives to grounding, peace mode, the Here & Now.

Assembling Better Spoons

January 19, 2021 group coaching session prep. How to leave peace/presence mode by way of passion/heart rather than returning to panic mode when you want to get things done again.

Panic Happens: Handling Mode Switching

January 26, 2021 group coaching session prep. Life is full of panic-worthy situations. Learn to recognize when you're back in panic mode again and get back to better spoons.
Instructor
We believe in inclusive community, and strong advocacy and support for struggling, disabled and stigmatized community members. We advocate for faster diagnosis, better therapies, adjunct & complementary offerings that can help boost the efficacy of recovery efforts on behalf of disordered, dysfunctional and struggling plural & DID systems. For our full background pertaining to creating courses on this site please see Instructor Background: The Crisses. We are an autistic, disabled, non-binary, gender-fluid, plural-identified quoigenic DID-diagnosed polyfragmented modular system with about 157+ system members of a wide variety of types. We are geeks, authors, content creators, instructors, healers, coaches, and mental health advocates. We have hEDS, CIDP, Reynaud's syndrome, several other related issues, and are transition opportunists. We live in upstate New York in the USA, and we moonlight as a pet sitter. For our full CV, please see https://Crisses.org.